BLARGHcade
.

the arcade is a dying artform, sega and namco are definitely doing their damnest to keep public space games interesting but the only way for people to shove their quarters in machines now is for HUGE GIMMICKS like skateboards that you stand on and actually kick when you want to jump , or JURRASIC PARK style jeep cabinet, that two friends sit in while shooting giant bugs and working together to have the highest COMPATIBLILTY SCORE at the end of your genocidal sunday drive or a BIKE YOU NEED TO PEDAL to stay afloat!
there are places like babycastles and invisble arcade and fantastic arcade and indiecade and the indie megabooth and OTHERS who are reviving the public-in person play with their own styles of arcades. i dont even think its FAIR to say arcades are dying, theyre just fucking evolving
AND THIS IS FUCKING GREAT, but many of us dont even KNOW some of the fucking hidden gems of arcades of old
as a frequenter of the arcade expo CALIFORNIA EXTREME which takes place a 10 minute drive from where i was born, as a child whos family couldnt afford a computer but all my friends parents worked at videogame companies so i HAD CONSOLES
as somoene who would take the bus every weekened to sunnyvale golfland to cheer people on in street fighter tournaments
as someone whos interest in videogames was re-kindled by experiencing the arcade culture in a 2005 trip to japants
and especially as a really really really really really perverted masochist
I UNDERSTAND THE IMPORTANCE OF PLAY IN PUBLIC SPACES
every week im going to tell you about a game i love, that originated in the arcade
whether i have experienced actually playing it in an arcade is a different story, but you can be SURE if i have that ill tell you ALL about it
i have this cognitive disorder where i cant shut up you see
SO WELCOME! HOPEFULLY I CAN GET YOU TO GET OUT THERE AND FIND THE GAMES I SPEAK OF becuase i have good taste and you should play every game i recommend
not all the games i recommend will be SUPER RARE im not into being FIRST when its impossible to be first ANYTHIGN on the internet nowadays
i just want to offer games i love a space to be loved, and if any one person plays a game ive recommended, thats a priceless fufillment YOU SHOULD FUCKING PAY ME THOUGH
on to the first game!

MACH BREAKERS: numan athletics is a sequel the most fucking frustrating arcade game ever, TRACK AND FIELD. YES THAT ONE and no i dont want to hear your method for hitting the buttons faster than everyone else, because everyone thats anyone knows that the PENCIL METHOD is the best way to cheat
so yeah daphny you're thinking DAPHNY track and field is boring you said you were gonna be talking about REALLY AWESOME ARCADE GAMES
well STICK WITH ME
MACH BREAKERS has a lot of the same mechanics as track and field, yes there is button mashing to run fast, but theres ALSO A BUTTON IN THE MIDDLE, AN ACTION BUTTON which changes everything!
ALSO THE CHARACTER SELECTION IS AMAZING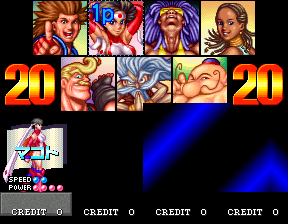 THEY ALL HAVE DIFFERENT STATS! for instance huge man with big belly is slow but strong, tiny man that uses HIS HAIR AS HIS HANDS is super fast but really weak, and of course mr all america is totally average
the game starts pretty track and field, the first level is just MASH MASH TO GO FAST DO IT but then something amazing happens
holy shit NO WONDER ITS CALLED MACH BREAKERS!!!! AND AFTER YOU FINISH THAT LEVEL (drumroll)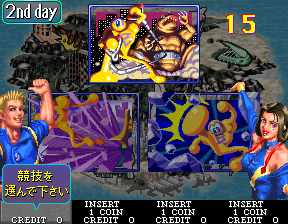 SECOND DAY?????? A LEVEL SELECT SCREEN????? (winner of first event gets to pick) WHAT IS HAPPENING?! SOMETHING IS HAPPENING TO THIS GAME?! YES SOMETHING IS HAPPENING, and its freaking AMAZING
as the game progresses too there are levels where you have to PULL GODZILLA THROUGH A BURNING CITY
OR YOU HAVE TO CATCH A FUCKING MISSLE FROM THE SKY AND THEN THROW IT AS FAR AWAY FROM THE CITY AS YOU POSSIBLY CAN SO WE ALL DONT FUCKING DIE
theres a level like the regular running level but theres HUGE BLOCKS OF ICE that you have to fucking BUST THROUGH with the ACTION BUTTON and the animations for people are great, like look at big dude using his tummy to bust that ice down
so ive never actually played this in a proper arcade, just on MAME (which if you dont have youre a bad person and you should fix that immdiately) and its NOT EASY like you have to do things in certain times or beat certain distances, so i credit fed the hell out of it. which is cool becuase IT GETS EASIER THE MORE YOU DIE! i recommend playing the ENTIRE THING
oh on mame the sound is fucked up and echo-ey but honestly i think it ADDS TO THE EXPERIENCE
also losing is hilarious so you should do it a lot!

blonde muscleman turns into a huge crybaby when he loses! dont you just want to hug him???
OH AND THE GAME SUPPORTS UP TO FOUR PLAYERS even though not all events are simultaneous play, and some of the ones that are only support two players at a time!
i think my FAVORITE event in mach breakers is where you have to shoot lasers at giant robots as fast as possible but sometimes cute girls pop up and if you shoot a cute girl you lose points
PLAY MACH BREAKERS! SEE YOU NEXT MONDAY FOR THE SECOND INSTALLMENT OF BLARGHCADE
Tags: